Free pattern for a small Tunisian crochet project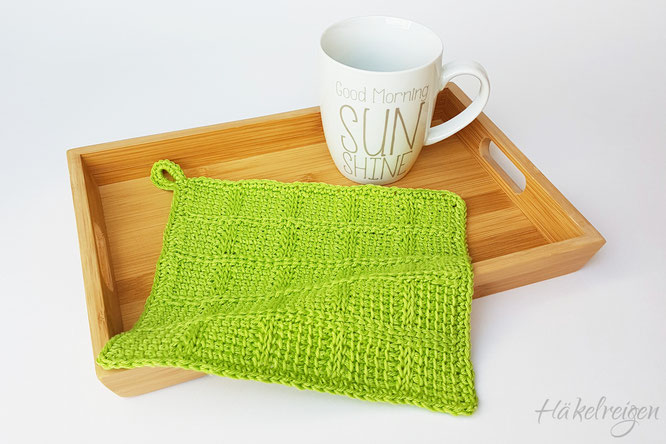 Small projects like a dishcloth or a potholder are perfect for practising new stitches.
I designed this one for my Tunisian crochet classes. It uses three different Tunisian stitches: the Simple Stitch, the Knit Stitch and the Reverse Stitch.
These stitches create a nice texture.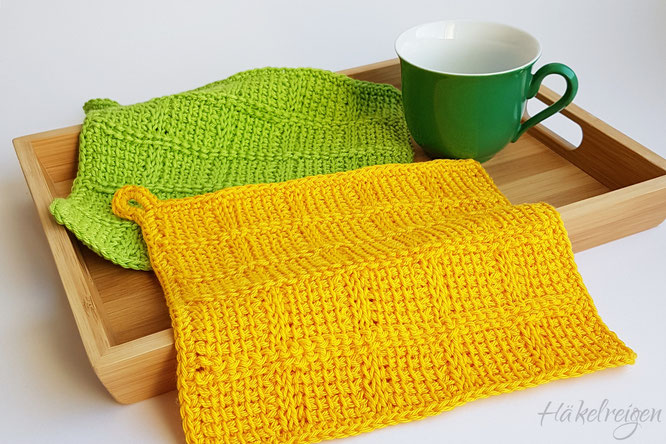 You'll need:
- 50 gr. cotton yarn (125 m / 50 gr.), e.g. Sandnes Mandarin Naturell
Please note: I made these samples using Schachenmayr Catania. For washing-up it is better to use non-mercerized yarn like Schachenmayr Cotton Clean oder Baby Smiles Cotton.
You can also use thicker yarn and make potholders with this pattern.
- Tunisian crochet hook size 5 mm, approx. 30 cm long or with cable
- yarn needle
Measurements: approx. 20 x 20 cm
Abbreviations
ch - chains

st(s) - stitch(es)

YO - yarn over

TSS - Tunisian Simple Stitch, insert hook from right to left under next vertical bar, YO and pull up a loop

TKS - Tunisian Knit Stitch, insert hook from front to back between both vertical bars, YO and pull up a loop

TRS - Tunisian Reverse Stitch, insert hook from right to left under the next vertical bar on the back side, YO and pull up a loop

RP - return pass

ES - edge stitch, insert hook under both strands of yarn

[…] - instructions in square brackets are worked multiple times

sc - single crochet

Instructions
Foundation row:

Ch 35.
Turn chains to the front and pick up a loop in the back bump, starting with second ch from hook and each ch across. (35 sts on hook)
RP: YO and pull through last st on hook, then YO and pull through two loops until one st remains.
Work all RPs in this way.
Row 1: [5 TSS, 2 TKS] four times, 5 TSS, ES. RP.
Rows 2 - 5: as row 1.
Row 6: TRS across, ES. RP.
Row 7: as row 6.
Repeat rows 1 - 7 three more times.
Work row 1 four times.
Finishing
Bind off with slip sts. Leave yarn attached.
Ch 8 for the hanger, insert hook into the corner again and work one round sc around the dishcloth. Work 3 sc in each of the other corners.
Work 12 - 14 sc around the chains of the hanger.
Cut yarn and weave in ends.