Free pattern for Tunisian crocheted egg warmers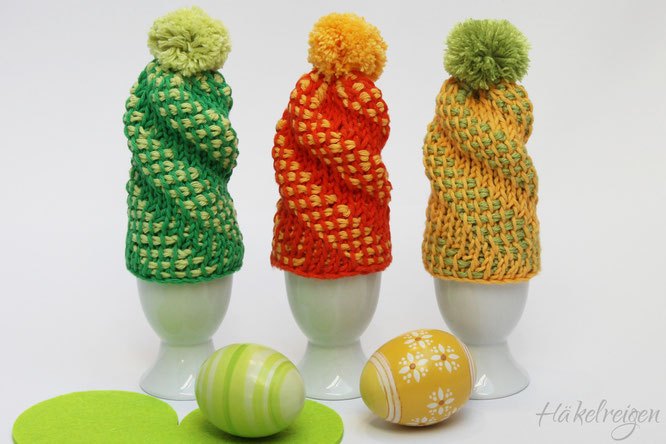 (contains advert - PR sample)
These Tunisian egg warmers are quick to make and perfect for practising Tunisian-crochet-in-the-round.
The pattern is based on my cowl "Calidor" (currently available in German).
 You'll need:
- DK weight yarn in two colours (I used cotton yarn , yardage 115 m / 50 gr.)
- a double-ended Tunisian crochet hook in size 4 or 5 mm
- a tapestry needle
- scissors
- a pom pom maker (optional)
Instructions:
Chain 23 (number of stitches must be multiple of 8 minus 1), close to round with a slip stitch into the first chain.
Turn the chains to the front to work into the third loop on the back. Pick up 1 stitch from each chain and leave it on the hook (photo left side).
When you have picked up half the stitches, turn and push stitches to the other end of the hook. With second colour yarn, chain 1, then always pull yarn through two loops on the hook (photo right side).
Turn again and pick up remaining stitches. Check number of stitches (23).
Pattern:
Work 4 Tunisian Knit Stitches (TKS) and 4 Tunisian Simple Stitches (TSS) alternatingly.
- TKS: insert hook from front to back between front and back vertical bar of next stitch, yarn over and pull up a loop
- TSS: insert hook from right to left under next vertical bar, yarn over and pull up a loop
Due to the odd number of stitches the stitch pattern will be moved to the left in every round.
Repeat until your egg warmer is 8 - 10 cm high.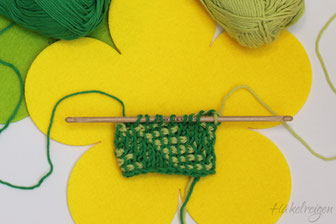 Decreases:
Work 2 stitches together as TKS twice (photo left side), then work 2 stitches together as TSS twice (photo right side).
Repeat twice.
Close stitches with second colour until 1 stitch is left on the hook only. Turn.
Chain 1 with first colour and bind off all stitches with slip stitches.
Cut yarn and thread it into the tapestry needle. Pull bind off stitches together and weave in ends.
Make a pom pom. The easiest way is to use a pom pom maker. Attach it to the top of your egg warmer.
Pony Needles gave me the double-ended Tunisian crochet hook 'Maple Twin' for testing. Thank you!