Pattern for a cozy and fluffy Tunisian crochet shawl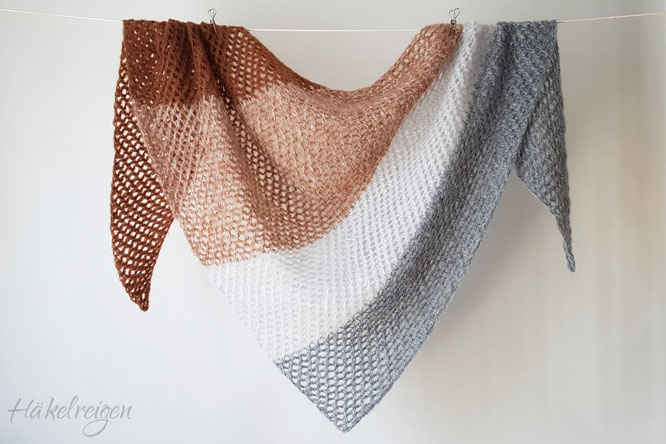 "Zuckerwatte" is German for cotton candy. This shawl is light, soft and airy, just like cotton candy.
With delicate yarn, a big crochet hook and a lacy stitch pattern you'll create a cozy and fluffy shawl that caresses your soul. The pattern is now available on Ravelry.
Zuckerwatte is worked sideways and can be finished at any size.
Skill level:
Advanced beginner, basic knowledge of Tunisian crochet techniques is required.
Material:
- approx. 500 – 600 m (550 – 650 yds) voluminous yarn like mohair
- Tunisian crochet hook with cable size 8 mm (US 11/L, UK 0) or suitable for your yarn to achieve a nice drape. Gauge is not important.
You can use 1 cake of gradient worsted weight mohair yarn, e.g. Woolly Hugs Bobbel Mohair (500 m / 150 gr., 546 yds / 5.29 oz).
The measurements of this shawl are approx. 166 x 73 cm (65 x 29 in).
Or you can use lace weight mohair yarn and crochet with two strands held together. This offers you endless possibilities in combining your favourite colours.
I made this green shawl with 6 balls mohair silk yarn (210 m / 25 gr., 230 yds / 0.88 oz).
I used a medium green for the entire shawl and combined it with darker, medium and light shades of green. This shawl measures approx. 206 x 77 cm (81 x 30 in).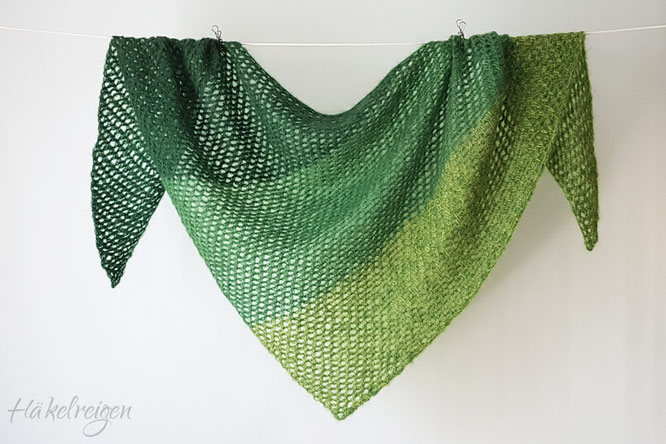 These two shawls are made from 8 balls Woll Butt Primo Sophie (155 m /25 gr., 170 yds / 0.88 oz) each. They are approx. 217 x 90 cm (85 x 35 in).
The pattern is available here: